Through the generosity of its extensive network of alumni, PCC was able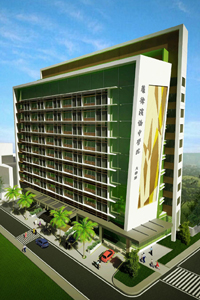 to acquire a 2,500-square-meter lot for a ten-storey building, located on D. Tuazon corner Cuenco avenues in Quezon City. In 2012, PCC held the groundbreaking ceremony signaling the commencement of the construction of the new building. By year 2015, PCC hopes to be able to start operations in the new facility as part of the continuing expansion of its College Department.
The new building will be equipped with the latest technology and state-of-the-art equipment, as part of the institution's comprehensive response to the growing demand for tertiary education respon-sive to the needs of the market. The new building will have air-conditioned rooms that are conducive to learning; an up-to-date library; an auditorium; laboratories for the various course offerings; a gymnasium; and a secure parking lot. This facility, the institutions&rs quo;s flagship project as it nears its centenary, serves as a testament to PCC's unwavering commitment to quality yet affordable education, as it likewise embodies the PCC promise to continue molding the nation's youth.